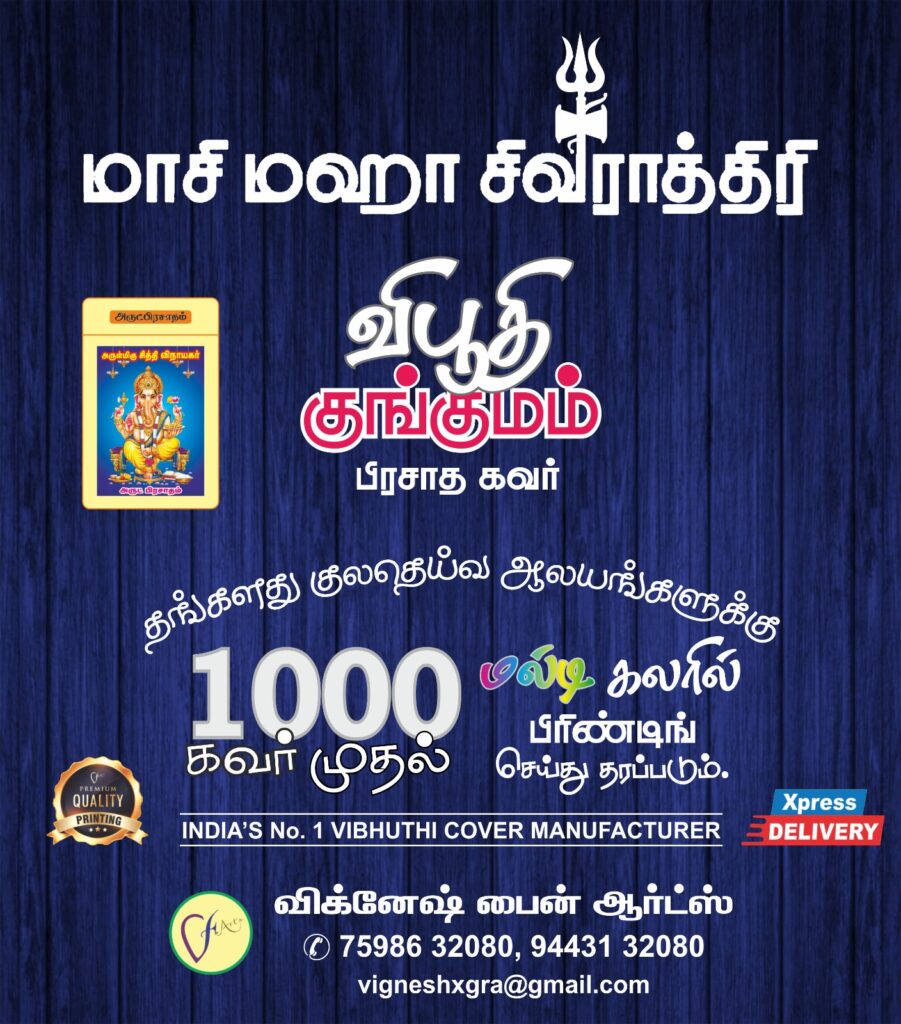 Welcome to Vignesh Fine Arts
INDIA'S NO 1 VIBHUTHI COVER MANUFACTURER
  Vignesh Fine Arts was founded in the year 2000 & located in Kovilpatti, Tamilnadu, India. At Vignesh Fine Arts, we take pride in providing top-notch printing services to our customers. With over 23 years of industry experience, we have established ourselves as a leading manufacturer of multi-color Vibhuthi Covers in Kovilpatti, Tamilnadu, India. We also offer printing services for medical covers, photo studio covers, seed covers, and more.
Our state-of-the-art printing facilities include multi-color offset printing machines, lamination machines, scoring machines, envelope cover automatic pasting machines, and a dedicated designing unit. We use the latest technology and printing techniques to ensure that our products meet the highest standards of quality and exceed our customers' expectations.
We specialize in creating custom designs for our clients, and we can provide Vibhuthi Covers, Medical Covers, and other types of covers with customer-provided images and designs. Our team of skilled professionals works closely with our clients to understand their unique needs and preferences, and we strive to deliver products that perfectly match their vision.
At Vignesh Fine Arts, we are committed to providing excellent customer service and ensuring that our customers are satisfied with our products. Whether you need Vibhuthi Covers for your temple, medical covers for your hospital, or photo studio covers for your business, we are here to help. Contact us today to learn more about our services and how we can assist you with your printing needs.
Viboothi Cover/ Prastha Cover/ Thiruneer Cover/ விபூதிகவர்/ திருநீறு கவர்/ குங்கும கவர்.